February is a rough month for teaching. It's cold and bleak outside (in many places, anyway). Everyone seems to be a bit lethargic and tired. Many schools have started having breaks in February. My children's school system, for instance, has a week-long winter break in February. Dylan was so excited to go back to school Monday that he woke up at 3:00 A. M. I realize he's different that way, though.
I decided it was time to have a really fun department meeting that (I hoped) everyone would look forward to, so we are having an idea slam. The goal is for each of us to bring one (or more) ideas/tips/tricks/etc. we use in the classroom to share with the others. I think we will not only learn a lot from each other but also have fun.
I'm still trying to decide which ideas I will bring to the group. I have several in mind. There is absolutely no reason we can't have another idea slam, though, and we have a dedicated shared folder in Google Drive that we will use to share electronic copies of anything we have. I can also scan anything that is only available in hard copy and put it in the folder later.
Some ideas I'm considering sharing*:
Literary 3×3. This is an idea I learned about when I was looking online for ideas to teach Mrs. Dalloway.
The Cartoon "Did You Read?" Quiz from the Making Curriculum Pop Ning.
Literary analysis bookmarks (an idea stolen from my Dean of Faculty, Cindy). (Page 1, Page 2—example is from Song of Solomon, but could be adapted for any book)
One of the literary analysis tools from AP Literature training this summer (besides TPCASTT, as my department knows that one pretty well).
Thesis statement Mad Libs (another idea from AP Literature training).
If you have a really stellar idea, I invite you to share in the comments. We can make this post our very own idea slam if you all want to play.
*If I know where the idea came from, I attempted to give credit. In many cases, I don't know where the idea came from, so I have shared where I learned about it at least.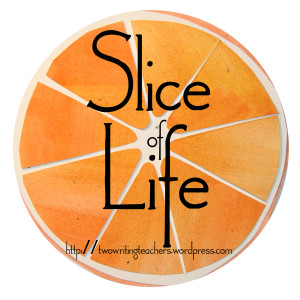 Slice of Life is a weekly writing challenge hosted by Two Writing Teachers. Visit their blog for more information about the challenge and for advice and ideas about how to participate.