I started a unit on Love and Relationships in my AP Lit class today. We discussed everything from what it means to love someone, what it means to love yourself and how you show love to others to the four kinds of love defined by Greeks to Capellanus's rules for courtly love to #metoo and sexual harassment and rape. It was quite a class.
I took a second look at my syllabus, and I realized something was wrong with it. All the relationships depicted in the stories and poems were heterosexual. I am committed to selecting texts that are both windows and mirrors for students. As such, not only do they need to read to learn about others and develop empathy but also to see themselves reflected back in the books they read. Statistically speaking, even if students are not "out," I have to have students who either already identify as LGBTQ or are still thinking about their identity. Adolescence is a time of considerable confusion; it's especially confusing for kids who wonder if they are okay or if other people struggle with the same feelings as they do.
What a gaping hole in my curriculum!
I can't defend the fact that my syllabus did not explore this issue in the Love in Relationships unit, but I did already include LGBTQ authors Virginia Woolf and Michael Cunningham in my Conformity and Rebellion unit.
Some years ago when I was teaching in Georgia, I taught a short story course for seniors, and Annie Proulx's Close Range: Wyoming Stories was one of my major texts. My students engaged in literature circle discussions of the stories. Students had to read "The Half-Skinned Steer" and could select other stories, including "Brokeback Mountain." I had students who were eager to read the story, but I also had students who refused.
"Brokeback Mountain" explores some essential ideas within the unit theme of "Love and Relationships." Most critically, it explores the essential question: How have changing roles in society affected romantic love and relationships? I had to put it in my syllabus, so I made a small change. I took out a story I wasn't even that familiar with but thought I'd teach since a text I use for reference in building my AP Lit course suggested the story, and I replaced that story with "Brokeback Mountain."
"Brokeback Mountain" addresses literature standards involving the development of elements such as setting and character and narrative structure and offers an opportunity to read through critical lenses (psychological, sociological, historical, among others).
I decided to re-read the story so that I could identify what issues it might raise if, in the worst case scenario, it's challenged. After all, it was a long time ago that I last taught the story. Maybe ten years!
If I'm honest, I can't think of another short story with LGBTQ characters that addresses some of the same issues as "Brokeback Mountain" does.
But there is a depiction of the sexual relationship between main characters Ennis Del Mar and Jack Twist, and the characters use realistic, coarse language.
So I wrote a rationale for using the text.
It was an interesting experience. I think through in some considerable detail why I am using specific texts, especially for new courses when I am creating backward design units, but I haven't written an entire rationale for a text. If a text I had selected was challenged, I think I could have come up with a rationale for its use, but it's so much better to be thoughtful about why we are using texts in advance. One of my big takeaways from NCTE is the critical work of teaching literature means we need to be able to justify our choices. We might not ever need to, and that would be great. However, we should be able to explain why we are asking students to read texts and what we hope those texts will offer.
You know what? I've been complacent because I've been fortunate. Writing that rationale made me feel like this: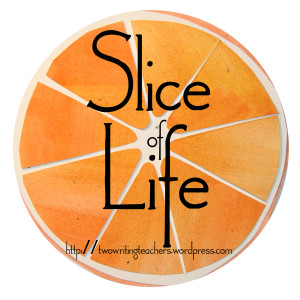 Slice of Life is a weekly writing challenge hosted by Two Writing Teachers. Visit their blog for more information about the challenge and for advice and ideas about how to participate.