I spent most of the early afternoon grading today. I am a bit mad at myself for forgetting my notes about my AP students' poetry presentations at school. I would have liked to have graded those presentations as well. Perhaps it's for the best, as one group still needs to present tomorrow, and it's probably better to put in all those grades at the same time, though I'm not usually picky about that. I am really glad to be caught up otherwise because our mid-semester comments are due on Tuesday. I can usually write these comments fairly quickly because I leave comments on just about every assignment in the grade book as I go, so checking progress is not hard for me. We have an open grade book, and students and their parents and advisors can see the comments I leave on assignments as well as updates like mid-semester comments, so I think the communication is pretty clear. At any rate, I have never heard otherwise, and I was actually told by at least one parent that my comments were clear.
Over time, evaluation has become one of those things I can do fairly quickly and still point right to the heart of how and what the student is doing with an assignment. It is like anything else, I suppose. It takes practice. Would you believe, though, that I grow more and more frustrated by the fact that grades even exist? I was actually reading this article this morning (and tweeted it out). If grades are not really considered by graduate schools and employers (unless they are so low as to provoke alarm), then what are we doing here?
I allow my students to revise their work. I think it's more important that they learn instead of that I am a hard-ass about a grade. I evolved into this belief. For one thing, my previous principal didn't give me the kind of license to hold it, but for another, I had been conditioned to think grades were the only way to show what we've learned. Going back to school and getting my master's really opened my eyes. I found that I, too, started to care more that I earned A's than that I learned. In the end, I found the whole process of earning that degree frustrating, and I can't say I feel like I learned a whole lot in that program. In some instances, I did, but overall, it was a waste of money that makes me angry all over again each month when I pay my student loan bill and wonder if I'll ever pay it off. Did it open some doors? I guess you could say that it did, but I really wish I could also say that it was a valuable experience in the same way that my undergrad experience was. There was no emphasis on grades in my English education program. We did earn them, but the emphasis was on the learning, and that's how I felt. B's didn't bother me. A's were not all I was after trying to do in those classes. My motivation to learn was so much more intrinsic because I valued what I was learning. I was invested. I saw how it would fit with my chosen career. I can't say that about most of my master's classes.
So as I sat here grading my students' work, I thought all these thoughts and felt all these feelings. I do want my students to see value in the work they do for my class. I want them to view it as more than a grade and be intrinsically motivated to learn. Grades stand in the way. I wonder if I am brave enough just not to assign grades. My school still gives grades, so it would be problematic. My students seem to appreciate the fact that they can revise writing, however. I am hoping they at least know that they don't need to be satisfied with a grade. The learning is their own, and it decisions about what to do about their learning, when, and how should be in their own hands, too.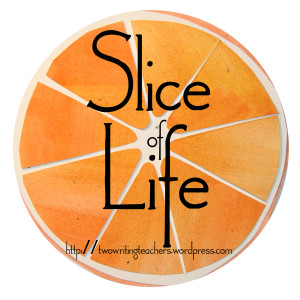 Slice of Life is a daily writing challenge during the month of March hosted by Two Writing Teachers. Visit their blog for more information about the challenge and for advice and ideas about how to participate.