On this date in 1692, Tituba, a slave owned by Reverend Samuel Parris in Salem, Massachusetts, broke down and confessed to bewitching several children who were suffering from mysterious ailments. She was one of the first three women accused of witchcraft in Salem, and by the end of 1692, the other two women would be dead and Tituba would be languishing in a jail cell until some unrecorded person paid her jail fees and took her away from Salem, after which she disappears from the historical record.
My students are currently reading Arthur Miller's fictionalized account of the Salem witch trials, The Crucible. Though this drama is frequently taught in schools, it's not exactly my favorite play. It's a little heavy-handed, and Miller's frequent interruptions early in the text don't allow readers to form their own opinions of the characters (those passages could all be in a historical note at the end, I think). However, students do tend to respond to the play for a lot of reasons, one of which is that witch hunts are very much a part of our society even today.
It is a fascinating time in our nation's history. Certainly we would like to think that we have evolved beyond accusing our neighbors of being witches. How preposterous! As we study the play, I ask my students to engage in an online scavenger hunt to learn more about the historical trials and about similar events in history. I asked my students what they found interesting, and invariably one of them mentions the fact that the witch trials were so similar to other events in history in which entire groups of people were cast under suspicion, sometimes tried and convicted, and sometimes even murdered—the Red Scare, the Holocaust, the Japanese Internment Camps.
I voted today because our country is in danger of engaging in another witch hunt. We have a presidential candidate who suggests that we prevent Muslims from entering the country until "until our country's representatives can figure out what is going on." And I think of my students sitting in my classroom. Some of them are Muslim. I think of Ahmed, who sat in my classroom last year. One of the gentlest, humblest, most unassuming people I have ever known, Ahmed was briefly jailed in Djibouti when he traveled there to get his visa to attend school in America because of a case of mistaken identity—he is Somali, and when police officers heard his accent as he spoke with his friend, they arrested him because another Somalian was suspected of engineering a car bombing in the city that day. Ahmed is one of the hardest-working, most earnest, kindest students I've ever taught. But because he is Muslim, there are people in our country who would prefer at best that he not enter the country and at worst that he didn't exist. And they don't even know him.
People have always probably feared "the other" and what they don't understand in life. The danger in holding fast to that mindset, however, is that we not only miss out on some amazing people but also that we do great harm. I voted because I do not want a man who doesn't even know my students, who can't understand how wonderful and amazing they are, and who scares me to death to become president. If I had Donald Trump in front of me, I might just make him read The Crucible. Sadly, I think he'd miss the point.
I don't typically write about politics, but I vote. I teach students about the ways in which our literature is both a window and a mirror, and I encourage them to vote, too. One of the reasons I teach is that I think my students can change the world, and I want them to be armed with the understanding, knowledge, and insight they need to do it. I don't want them to go into the polls ignorant about who and what they are voting for.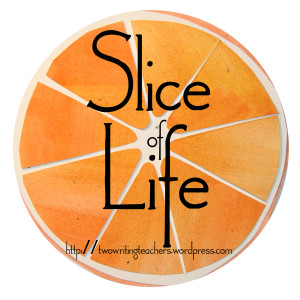 Slice of Life is a daily writing challenge during the month of March hosted by Two Writing Teachers. Visit their blog for more information about the challenge and for advice and ideas about how to participate.