Previous visitors might remember that I am implementing independent reading. Students have shared their reading progress for their first full week of independent reading. Almost all of them met their reading goals. A few observations:
Most of the students are enjoying their books. One boy declared in class today that Kwame Alexander's book The Crossover is the "best book [he's] ever read." He's been recommending it to others. Another said of Miss Peregrine's Home for Peculiar Children, "This is a really intense and fun book to read, the pictures in the book combine [with] the writing really well and make it even more interesting."
One student said he wasn't enjoying his book, and I emailed him to let him know it's okay to abandon it and move on. I think he just needed to know it was okay.
One girl finished a project we've been working on and read for the entire 75-minute period today. And she told me at the beginning of the year that she didn't like reading and didn't read for fun.
Some of them need to recalibrate their goals. I had them use Penny Kittle's method of counting how many pages they can read in ten minutes, then multiplying that figure by six and then doubling it to determine how much they can read in two hours. Some of them didn't factor in needing to look up words (I have many English language learners in my classes) in their time.
One student emailed me to let me know her page count was proving unrealistic, so she recalibrated on her own. I like the fact that my students are doing this kind of thinking: adjusting their own goals and taking ownership over their reading.
One student finished John Lewis's graphic memoir March: Book One. He picked up March: Book II and checked out Winger for over the break.
My student who is reading The Crossover is an interesting student. He's one of those real charmers, a leader in the classroom. The other students tend to look to him. He's easily the most outgoing student in the class, so when he says a book is the best book he's ever read, the others are going to add it to their list. He said he is close to finishing his book and will need another "to read over the break." And I said, "Yes, of course, because I want you all to keep reading over the break." He joked that he would cuddle up with the book and a nice cup of tea. I told him he was describing my idea of a party.
So far, the independent reading is quite a success. I am pleased to see the students reading so much. I've had a good time reading along with them (I haven't done any reading conferences yet because at this time, I haven't identified a need).
The students are already establishing the routine of reading at the beginning of class. I forgot to set the timer and remind them to read today in one class, and they started without me!
As I've promised before, I'll keep posting updates about how independent reading is working. It's off to a strong start.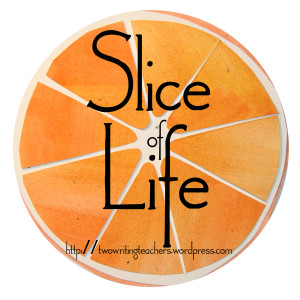 Slice of Life is a weekly writing challenge hosted by Two Writing Teachers. Visit their blog for more information about the challenge and for advice and ideas about how to participate.