I lived in Winder, Georgia in 1996-1997 when I was finishing up my undergraduate degree. I was married, and my daughter was a toddler. There was a house on Center Street in Winder that was blue with red trim, and it had a porch I fell in love with. I was one of those large Victorians with great big shady wraparound porches. I have a goal of living in a house like that, some day. I think if I could find a place like that, with a nice swing, I could really be at home.
Moving around was hard. It was not easy being the new kid, especially since I was what we called shy. Now it's considered more or less normal, and we call it introverted. I have lived in a lot of places, but it's hard to call most of them "home." That's not to say that I have not liked and even loved some of the places I've lived. They just didn't stir some deep place inside of me that felt like home.
One place that did feel like home was Athens, Georgia. When I went away to college—and I should write a post this month about how I chose my college—at the University of Georgia, I lived on campus. I felt so at home in Athens. There was a spot on North Campus with a small fountain. It didn't get a lot of foot traffic. I used to love to walk over there and sit on a wrought iron bench and read or study. One of my fondest memories is hearing the trains at night. I have always loved living where I can hear the trains at night. I also used to love to wander as far as I could go up Prince Avenue. It's hard to explain the pull that Athens had on me, particularly some places in Athens. It is a college town, and a pretty typical one. The first night we drove around downtown when my parents were dropping me off to school, it was like I fell in love. Some time later, I discovered that my family used to live near Athens. As much as it was not the same Athens that existed when they might have ridden into town to do one thing or another, it was there, and some parts of it would have been familiar to them—the parts I loved best, anyway.
Another place I fell in love with at first sight was Gambier, Ohio, where Kenyon College is. I have said that it's a shame I didn't know about that place when I was trying to figure out where to go to school. I would have loved it there. Alas, I'm not sure that I could have afforded it, even if I had managed to get in. Still, the place felt familiar and right. One night as I was walking back to the dorms where I was staying during my workshop, I could hear frogs, and there were fireflies flitting through the trees. I remember thinking, "Oh stop it; no place is this idyllic." Before I even arrived on campus, I remember as our driver was taking me from the airport in Columbus up to Gambier, we passed through Licking County, which is where my father's family lived for a while in the nineteenth century before moving to Story County, Iowa. Why did this landscape, just one county over from where my ancestors lived, speak to me?
So then I started wondering, given how much I fell in love with Gambier, do we carry our family's rootedness and love for a place somewhere? A recent study has shown that we do inherit trauma through our DNA. If that is possible, is it also possible for positive environmental experiences to impact our DNA in the same way? Logically, I admit it doesn't really make a lot of scientific sense. It's hard to say what it is that produces the feeling of falling in love with a place. I have been other places where my family lived for some time and not felt a thing one way or the other.
On the other hand, what both of these places have in common is that they are college towns, and both are fairly dependent on the college for their existence. I suspect that I would be equally drawn to many other college towns, recognizing in those places a mix of old and new, interesting architecture, and a focus on academia. Perhaps, after all, that is what I'm really in love with: college. I have said many times to students that when they go to college, yes, they should study, but they should have fun, too. My one regret about college is that I wish I had just done more and had more fun. I can't get that time back.
Still, I wonder what it is about these two special places, Athens and Gambier, so far apart from each other, but each places near where my family once lived—places they, too, may have visited. What, exactly, is it that makes a place feel like home?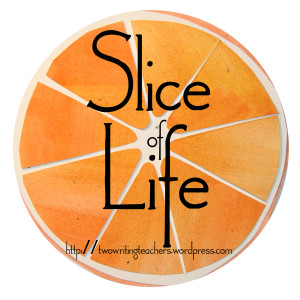 Slice of Life is a daily writing challenge during the month of March hosted by Two Writing Teachers. Visit their blog for more information about the challenge and for advice and ideas about how to participate.