I was thinking of traveling today because I have been doing family history research all day, and one feature of the software I'm using allows me to attach geocode tags with longitute and latitude for places that crop up in various family events. It was interesting to see the westward movement of some members of my family. Others remained more or less within the confines of a small area their entire lives. Nowadays, that kind of movement is so much more rapid and frequent. In the 1800's, when our ancestors traveled west in covered wagons, that was it. You were staying, and you were not going to be able to go back for visits. It takes a matter of hours for me to cover the same ground, and if pressed, I can go there and back in less than a day.
It's strange, but one of my fondest travel memories is driving from Cape Fear, North Carolina, where I was living at the time, to Aurora, Colorado with my then husband and young daughter to visit my grandparents. We didn't plan very well and assumed (you know what happens when you do that) we should be able to stop the first night in Tennessee. I think we had planned to stop in Nashville. No room at the inn in the first place we tried. We kept going. No room. We kept going. Finally, I decided to keep going while my husband slept, and then we could trade off. I felt somehow like I was all alone. There were no other cars. The family was sleeping. I was cruising down I-24. My husband woke up when I got on I-57; he felt the vehicle slow down. I think he might have volunteered to drive. We made it through St. Louis in the wee hours and stopped at a rest area on the western side of the city to nap for a little while. I remember crouching in the floor of the car and resting my head on the seat. There's no way I could sleep like that now. After a little while, we got back on the road and drove across Missouri and Kansas, finally stopping in Goodland, Kansas, not far from the Colorado border. It was probably only 5:00 P. M. Or maybe not even that late, but we were exhausted, and the weather looked threatening. I'm pretty sure it could have produced a tornado if it had wanted to. We drove into Aurora the next day. It was probably only about four or five hours before we were there. It's funny how indelible and strangely happy that memory is to me now, that feeling of being alone with just my road trip music on in the car, the whole road wide open to me. I couldn't do it now. I had so much more energy in my 20's.
Even going 1,800 miles across the country was something I could do, at least when I was in my 20's, in two days. I know we take this miracle of travel for granted. Certainly, I do. As long as we have a little money for gas and food, we can go virtually anywhere, and we can come back when we're ready.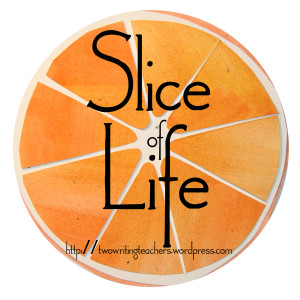 Slice of Life is a daily writing challenge during the month of March hosted by Two Writing Teachers. Visit their blog for more information about the challenge and for advice and ideas about how to participate.