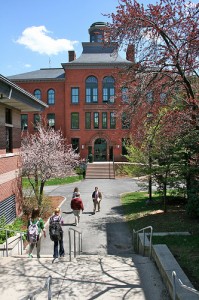 I'm very pleased and excited to announce that I have signed a contract for the position of Technology Integration Specialist at Worcester Academy in Worcester, Massachusetts.
Obviously, accepting this position was not an easy decision to make as it will involve a fairly substantial relocation for my family to an area of the country where we have no family and few friends. I would be lying if I said I was not nervous… well, scared, actually. However, I think it is a wonderful opportunity, and I am very excited about the possibilities, too.
It has been time for a change for a long time, I think, but I had other considerations that might have prevented a move out of Atlanta. Now is a good time to move, and if we're going to do it, we might as well make a big change.
I'm excited about my new position for many reasons, not the least of which is that my future colleagues are warm, wonderful people who solidly support professional development and technology integration.
You can learn more about their school at their website, follow them on Twitter, and check out their Facebook page, YouTube channel, and Flickr account.
Image via Worcester Academy on Flickr
If you appreciated a resource or want to support my work,
please consider leaving a tip. Pay what you like!