Last night when I was looking around on Twitter, I came across this tweet by the illustrious Geoffrey Chaucer:
Go yow! Ye kan do the thinge!

— Chaucer Doth Tweet (@LeVostreGC) March 29, 2016
Yes, I know this is a (sort of) parody account, and it's not even a serious tweet, but I was actually nervous about something I had to do today, and believe it or not, this tweet actually helped a little.
I was reading yesterday that people actually fear the unknown more than they fear situations about which they know the outcome, even if the outcome is bad. Because I have anxiety, I am probably worse than most people. Oh, I can gin up a ton of horrific scenarios! I can tell myself rationally that things are unlikely to happen that way, but the fact is that if you put together anxiety with OCD (and my type tends towards obsessions rather than compulsions), well, let's just say I can worry like nobody's business.
I have really tried to get a handle on the worrying in the past. For example, I have read the Bible verse in which Jesus says not to worry, which is beautiful and worth quoting in its entirety (I'm partial to the NKJV, though I love that the New American Standard Bible calls this passage "The Cure for Anxiety"):
25 "Therefore I say to you, do not worry about your life, what you will eat or what you will drink; nor about your body, what you will put on. Is not life more than food and the body more than clothing? 26 Look at the birds of the air, for they neither sow nor reap nor gather into barns; yet your heavenly Father feeds them. Are you not of more value than they? 27 Which of you by worrying can add one cubit to his stature?

28 "So why do you worry about clothing? Consider the lilies of the field, how they grow: they neither toil nor spin; 29 and yet I say to you that even Solomon in all his glory was not arrayed like one of these. 30 Now if God so clothes the grass of the field, which today is, and tomorrow is thrown into the oven, will He not much more clothe you, O you of little faith?

31 "Therefore do not worry, saying, 'What shall we eat?' or 'What shall we drink?' or 'What shall we wear?' 32 For after all these things the Gentiles seek. For your heavenly Father knows that you need all these things. 33 But seek first the kingdom of God and His righteousness, and all these things shall be added to you. 34 Therefore do not worry about tomorrow, for tomorrow will worry about its own things. Sufficient for the day is its own trouble.
 Matthew 6:25-34
I totally understand the point, and rationally, I agree with it. Worrying doesn't do me any good. But knowing worrying is harmful doesn't help me stop worrying. And then I feel bad for having "little faith." Something else to worry about! I worry I don't trust enough in myself, in the goodness of others, or, if you like, in God that everything will work out.
The absolute worst thing for me is not knowing how something will work out so that I can worry about all the possible horrible outcomes until the event transpires—and it's rarely as horrible as I imagined. In fact, I'm not even sure I can think of a single time it was as bad as I imagined. I just hate having anything hang over me long enough for my imagination to get to work on it.
And the thing that I was worried I couldn't do, or that might go wrong, actually went fine. It went really well, in fact. Geoffrey Chaucer was right. I can totally do the thing. So can you. We should all listen to him more often.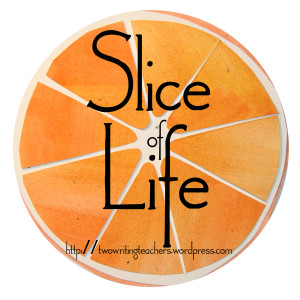 Slice of Life is a daily writing challenge during the month of March hosted by Two Writing Teachers. Visit their blog for more information about the challenge and for advice and ideas about how to participate.