Today is the last day of the Slice of Life March blogging challenge. I was able to write a post every single day this month. I made it!
For my last post, I'm literally just going to talk about my day. We started with a faculty meeting and English department meeting that included a great discussion of how to make integration work better between departments. My colleagues have some great ideas.
I taught three classes: my two sections of American literature and an independent study in British literature. My student in British literature had a scheduling issue, and the only way we could resolve it was to set her up in a class by herself. She read Chaucer's "Knight's Tale" over break, and we started "The Miller's Tale" today. She was a little surprised, even though I warned her. She found some helpful videos online to help her understand the stories a little better. Her father is one of my colleagues, and we had an impromptu conference this morning when he stopped by another colleague's office to ask a question. I share my classroom with another teacher, and when he's teaching, I tend to camp out in my colleague's office. Dad said she is enjoying the independent study, but she misses the interaction with other kids. That makes sense. We really do learn more from each other.
My American literature classes are starting The Great Gatsby. I book-talked The Things They Carried by Tim O'Brien before we took ten minutes to read. Interesting and true story: my two international students from Vietnam both want to read this book. On the one hand, I see why. Both of them have expressed a lot of interest in books set in their home country. As veterans go, O'Brien bears no particular ill will toward the Vietnamese, so I think they will be okay reading it. Naturally, they are curious about this war that ravaged their country before they were born. I wouldn't want to shield them from it. It's true, it happened, and it likely directly affected their families. But I'm still thinking about it and hoping they will be okay reading it. They both seemed very eager to look at it. One bought the e-book right there in class. The other borrowed my copy. Both of them also read Thanhha Lai's Inside Out & Back Again, which is set after the Fall of Saigon, when the main character Ha's family flee to America. These two boys write most beautifully when they write about their homes. I taught both of them last year as well.
I had a quick meeting after school. I came home to a box from Stitch Fix (just keeping two items, neither of which are school clothes: a boho top and some denim capris). We drove up to Five Guys for burgers for dinner. Then we went to the thrift store, and this is my book haul.
Hidden from view in the image—Zadie Smith's White Teeth. Not a bad haul. They had a pretty good selection of books. I could easily have bought a few more.
Now I'm curled up on the couch, getting ready to go over my lesson plans for tomorrow before I go to bed. A good day. And tomorrow is Friday. 😎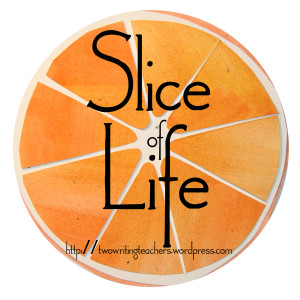 Slice of Life is a daily writing challenge during the month of March hosted by Two Writing Teachers. Visit their blog for more information about the challenge and for advice and ideas about how to participate.