Something many visitors to this blog might not know about me is that I make soap. I have been making soap for almost four years now. One of the reasons I started is that I fell in love with the homemade soap sold at my local farmer's market back when I lived in Georgia. I did some research, thinking that once we moved to Massachusetts, I might take it up as a hobby. I looked at websites, saved money for supplies, and read books. I made my first batch of soap within a few weeks of moving. I didn't want to start a new hobby as we were attempting to move, especially as it would mean packing those supplies I had purchased. It seemed better to do research and wait until we moved.
Over time, I learned to develop my own recipes for soaps, and I've learned my own techniques for design. It has become a creative outlet—a form of art. It's conveniently a useful art, as well, but not any less creative for all of that.
In the years since I started making soap, I have had some spectacular failures. The first time I made soap using coffee, I forgot one of my oils, so my soap had too much lye in it, and it was not usable. There are ways you can salvage batches like that, but I didn't want to because my design had been ruined. The first time I used honey and goat milk together in soap, my soap overheated and had very interesting-looking caves running through it.
Fragrances can sometimes be difficult to work with. Sometimes they contain ingredients that cause soap to darken (which is cosmetic, but some people don't like the way it looks). This is usually because of a high content of vanillin, but other ingredients can discolor soap.
Some fragrances speed up the exothermic chemical reaction between oils and lye that results in soap, making it difficult to work with the soap batter. This problem is known as speeding up trace (when it's mild) or seizing (when it's severe). Soap batter is a mixture of oils and/or fats and lye. "Trace" is a term given to soap batter when it's thick enough to leave little traces or trails on the soap batter.  You can just see it if you look at this image of soap batter.
Once a soap reaches "trace," it's ready to pour into the mold. If a fragrance causes a soap to reach trace faster, it might be more difficult to pour into a mold because it's thicker. This can sometimes leave gaps or holes in the bars, but is usually not a problem aside from cosmetic issues. I do work with some fragrances that cause my soap batter to thicken more quickly, so I have learned to compensate for this issue by mixing the oils and lye at a lower temperature and/or not mixing them as long as I typically might.
You can see the holes caused by soap made with a fragrance that thickened up really quickly. I had to glop it into the mold, and it left holes like the ones near the bottom of the bar. After I learned how to work with difficult fragrances, I learned produce soaps like this one, even with fragrances that thickened the soap batter.
No holes or gaps!
I have only had soap batches "seize" on me a few times, and it's always been because the fragrance caused it. Seized soap starts to solidify before you can even get it into a mold, and it often heats up at the same time. If a fragrance causes my soap to seize, I just don't use it ever again because you can't really work around that issue. The best you can do is glop the soap in a mold and hope it doesn't look too terrible, but it nearly always does.
I have learned to enjoy the process of making soap. It's calming. I usually listen to audio books while I work. I love experimenting with different colors, designs, and scents. I like trying things like infusing my soaping oils with herbs, like chamomile and calendula.
I have developed a favorite recipe that makes a really nice lather. It's a go-to recipe for me, but I still try different combinations of oils sometimes. The fun, for me, is discovering something new—a design technique I have never tried, or a color combination that looks gorgeous. I have learned a great deal about art through making soap.
I've also learned resilience in the face of failure. It took me several tries to make a good goat milk soap. Working with milk in soap is hard for beginners. It also took me several tries to learn how to make swirls in my soap. This was my first successful swirl.
I've also learned the value of experimentation. I have ruined some batches of soap, resulting in loss of materials, but each time I had problems, I learned from them, and learning what NOT to do next time is probably more valuable than doing everything right the first time every time. It's disappointing to have a ruined batch of soap, but I always learn from it when it happens. And it still occasionally happens.
I've learned a great deal about chemistry, too. I never took organic chemistry, and I had a great deal of trouble with chemistry in high school. I understand a lot more at least about the kind of chemistry involved in making soap, and it is fascinating to learn about. One of the reasons I took up this hobby in the first place is that I love to learn. I have tried my hand at many crafts over the years—making candles, cross stitching, crocheting, knitting (still learning that one), scrapbooking—and none of them has captured my imagination or given me the same kind of artistic gratification that making soap has done. I've also made friends that only know me through my love of this hobby—most of them fellow soapmakers.
We should all find some artistic outlet that fulfills us, teaches us, and allows us opportunities for expressing ourselves.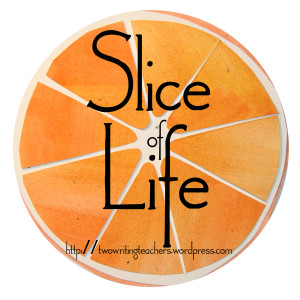 Slice of Life is a daily writing challenge during the month of March hosted by Two Writing Teachers. Visit their blog for more information about the challenge and for advice and ideas about how to participate.