I feel like I've been lazy. I haven't done much work on my project this week. I have been playing Guitar Hero, reading a little bit, and goofing around on my computer. I can't seem to get motivated, so I decided maybe it was my brain telling me I needed to take a break from it. So I have been. I do need to get to work on it soon, or else I will be pressed to finish on time. I'm just glad I had worked on it so hard in June. I think I am about 70% finished with it.
We are going to Salem, Massachusetts next week: somewhere I have always wanted to visit for English teacher geek reasons. It will be so much fun teaching The Crucible this year after my visit! Plus we will swing by Concord and visit my friend Ha and see Walden. Last time I visited, it was frozen over. It will be interesting to see it in the summer. I can't remember if I mentioned it on this blog or not, but I won this trip in a sweepstakes, if you can believe that. I'm not a particularly "lucky" person, or I don't view myself that way anyway, but every once in a while I enter sweepstakes thinking it takes a minute or two, and the worst thing that happens is you don't ever get that minute or two back and you don't win a trip. It was online, so I wasn't even out of a stamp. Well, I won. I know, right? No one wins those things. Here is my package: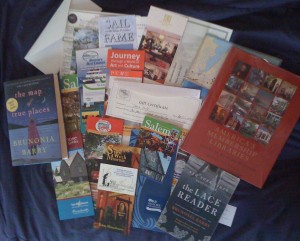 It is the Map of True Places Sweepstakes for Brunonia Barry's newest book, The Map of True Places.
Here is what's included:
I've actually been using Evernote to plan the trip. Really handy! I haven't used Evernote very much for myself before planning this trip. We are driving because airfare is just too expensive, and we are also taking two kids, so we will need to pay their way, but you really can't beat it!
photo credit: amber in norfolk
If you appreciated a resource or want to support my work,
please consider leaving a tip. Pay what you like!