ReadWriteWeb has an article about Google's development of a new browser called Chrome.  I followed the link and I like these features:
It's open source.
It will have a task manager so users can track memory usage.
The default homepage is a "speed dial" type feature with thumbnails of the most frequently visited Web pages.
I'm not sure I like the idea of tabs on the top instead of under the address bar, but that's just because I'm used to Firefox.  And I love Firefox; I'm not sure I'd switch for these kinds of services, though Firefox can be a memory hog — it's noticeable on the four-year-old desktop our family shares, but not on my new Mac or school computer.  Then again, I really related to this cartoon from XKCD: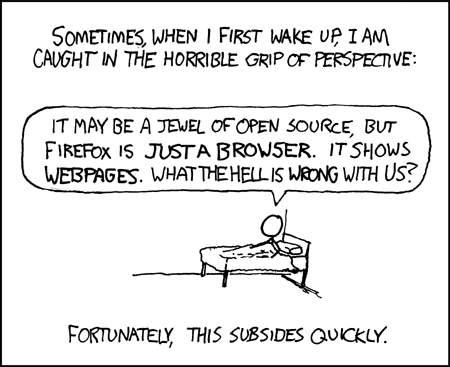 If you appreciated a resource or want to support my work,
please consider leaving a tip. Pay what you like!