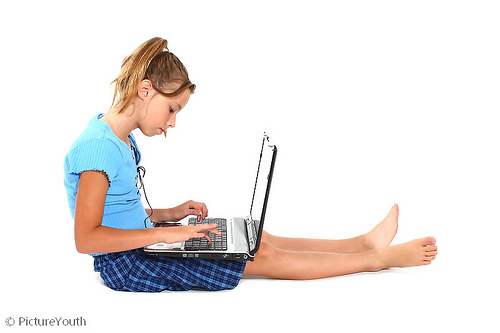 I think we are doing a better job encouraging girls to go into science and math. I think we still have some work to do, but we've come a long way. I don't think we're doing as well encouraging girls to go into technology. Next year, I'll be the only female member of my four-person technology department, and that's not unusual. Actually what's unusual is that my technology department has any women. Our technology classes are populated mainly by boys, at least by my casual observation.
This month's digital issue of Tech & Learning cites a College Board statistic that the Computer Science AP exam has the lowest number of girls of any of the AP exams since 1999 at 18%. I am showing my ignorance here, but I didn't even know there was a Computer Science AP exam. The National Center for Women & Information Technology has published a fact sheet with more disquieting facts:
In 2009 women earned 18% of computer science degrees, down from 37% in 1985.
Women comprise 25% of computer-related occupations. Of these women, 2% are black, 4% are Asian, and 1% are Latino.
The number of women interested in majoring in computer science for undergraduate studies has dropped 79% from 2000 to 2009.
One way I plan to try to raise awareness of women/girls and technology among my own faculty is to coordinate some event, even if it's just a newsletter, around Ada Lovelace Day this October. Raising awareness is all well and good, but what should be done to encourage girls and women to go into technology? What is at the root of the decline in interest?
photo credit: Picture Youth.
If you appreciated a resource or want to support my work,
please consider leaving a tip. Pay what you like!