The other day, I saw this challenge posted on Sally's blog. It looked like fun.
What has been your one biggest struggle this year?
My absolute biggest struggle this year is not one I feel comfortable airing in public, but suffice it to say it's a personnel issue.
Share two accomplishments you are proud of this school year.
I am really excited and happy that my department is beginning to plan a humanities curriculum with the history department. They are a fantastic bunch of teachers, and they have some great ideas. I'm also really excited that our department will be featured in an upcoming alumni magazine as part of an issue devoted to the school's writing program.
What are three things you wish to accomplish before the end of the school year?
I want to figure out a way to become more involved with our local NCTE affiliate, NEATE. In fact, I've already reached out to my friend Kim, the NEATE President, and we have begun that conversation. I want to buy a new car. We are overdue, and I've written about the issue before. We are close. Actually, we could probably do it right now, but we are trying to preserve some savings. Finally, I would like to help my daughter find a book. My son, thankfully, has discovered Lloyd Alexander. After he finishes Time Cat, he is planning to read The Book of Three.
Give four reasons you stay in education today despite the current rough culture.
The students are always the main reason. My job is never boring, and they are the most important part of everything I do. I also enjoy the mental stimulation. I never really do the same thing every year, and thinking of new ways to teach material is a challenge. I think it's an important job, too. Helping students learn to understand their world through literature and to communicate well will take them far, and I take my job very seriously. Finally, I have had the pleasure to work with some great people in my career, and I have made many other friends through teaching. It's been an incredibly rewarding experience, even with the hardships.
Which five people do you hope will take this challenge?
This might be a cop-out, but I am just hoping anyone who needs the inspiration some day during the Slice of Life Challenge will take up this challenge.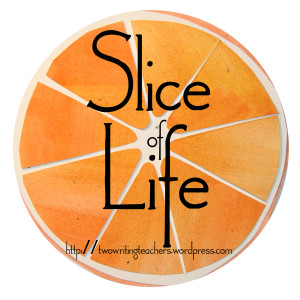 Slice of Life is a daily writing challenge during the month of March hosted by Two Writing Teachers. Visit their blog for more information about the challenge and for advice and ideas about how to participate.