After I got the kids off the bus this afternoon, we drove up to the car dealership. Our sales associate had called to let me know the registration for our new car was ready, and I could come down and get the sticker inspection.
I haven't driven a lot around Worcester because I detested driving our old car. It was gripping-the-steering-wheel-anxious-hoping-not-to-be-stuck-on-the-side-of-the-road-again kind of hatred. As a result, despite the fact that I've lived in Worcester for almost four years, I don't know my way around all that well. I managed to get to the dealership just fine with our GPS navigator. However, driving back, I got off on the wrong exit and continually found myself turning the wrong way and getting confused. I eventually found myself near my school. I can't say I was ever really lost, just not able to get going in the right direction. Dylan was in the backseat telling me, "You're going the wrong way!" We managed to get home fine despite my inability to follow the GPS directions, but it was a little adventure.
My new car has Bluetooth, so I can connect it to my iPhone. I love this feature. I have been listening to my iTunes music in the car. I was playing my U2 playlist on this trip. U2 is one of my all-time favorite bands. "Where the Streets Have No Name" came on, and lo and behold, my fifteen-year-old daughter Maggie was singing along! Who knew she was familiar with that song. Of course, she does tend to like 80's music, which is as "vintage" to her, I guess, as 60's music was to me. So it comes full circle.
We had a fun little adventure on the ride home, and quite possibly were in the car long enough to hear this song together when we might have arrived home before it came up on my playlist. Not quite driving around where the streets have no name, but we managed to get a little bit lost and found anyway. I'm looking forward to more adventures in the new car.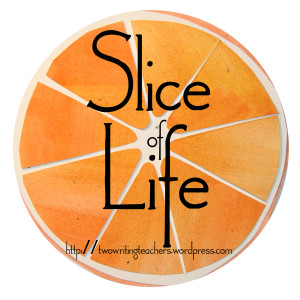 Slice of Life is a daily writing challenge during the month of March hosted by Two Writing Teachers. Visit their blog for more information about the challenge and for advice and ideas about how to participate.