Yesterday was Marathon Monday in Boston. Three years ago, we were all watching in shock as the Boston Marathon was the center of a terrorist attack that ended three lives and injured many more, irrevocably changing their lives. The Boston Marathon Bombing also irrevocably changed Boston. The moment was unforgettably captured by hometown hero and Red Sox DH, David "Big Papi" Ortiz.
I have never been into sports much. There was a time when I was in my late teens and early twenties when I followed tennis a bit, but even then, I didn't follow it closely really. Sports brought back some painful memories of trying to get my body to do things I couldn't figure out how to do. PE was always a challenge for me. I could run, and I actually had pretty good endurance. I might have made a good cross country runner. I will never know. The one year I finally decided to try out for cross country, my school declared there was no interest in a team, and we didn't have one. I had gone to the athletics physical before the start of the year and everything. In those days, I didn't advocate for myself much, so I let it go.
Perhaps you need to know that my history with sports is one of disappointment, frustration, and even some regret. I grew up in Aurora, Colorado, and the Broncos were everything to my classmates. John Elway was quarterback in those days. I moved to St. Louis for a short time, and I saw my first major league baseball game—Cardinals versus the Dodgers at Busch Stadium. I don't remember much about it. Mom had obtained the tickets through work, and though none of us were baseball fans, it seemed like a fun opportunity. I got to see Fernando Valenzuela pitch. The Cardinals lost.
Though my high school had been state football champs the fall before I started going there, and though my college was a big SEC school, I never could get into football, either, and I don't really think I will. As a member of the marching band, football was more often the cause of resentment for me than anything else, and once I was in college, my dorm was right next to the stadium. On weekends, tailgaters trashed the alley by my dorm  and the whole place stank of beer. This careless disregard for my home did not do a lot to change my disposition toward sports and their fans.
I don't think I immediately registered exactly what that moment meant when Big Papi took to the field to claim Boston back from those who would want to make us afraid. Now when I watch it, I get goosebumps. He gave that speech three years ago tomorrow. We watched it on the news. Some time after that, my husband started watching games on TV. He had been a baseball fan in his youth. Then, incredibly, the Red Sox were in the running for the pennant. And then they were in the World Series. And then they won the World Series!
My mom had become an Atlanta Braves fan after my family moved to Georgia. She used to watch their games on TV. Because of her, I knew the names of the players, and I even watched a little if it was on TV when I visited. But I couldn't get into the Braves. There was something magic about watching the Red Sox play, though. They had heart. The players were such characters. It was that year that they all grew beards for good luck. Incredibly, I was a fan for the first time in my life.
I watched the disappointing 2014 and 2015 seasons. It didn't matter that the Red Sox didn't repeat. Well, I would have preferred it if they had, but it was through the adversity of those two season that I realized I really was a fan, and not just when the team was winning. I was sad to see some of my favorite players traded. That's part of the game; I get it. It's early days this season, but I like watching the current lineup play as well.
For Christmas, I bought my husband tickets to see the Red Sox play the Blue Jays on April 16, which also happened to be my son's 13th birthday. We had a great time. The Sox beat the Blue Jays 4-1. Unfortunately, they lost the next two games, splitting the series 2-2. The game on Marathon Monday was particularly heartbreaking. The Sox had it in the bag as Clay Buchholz pitched a really good game. The Sox defense made five double plays. There was no reason for the Sox to have lost, but the relief pitchers gave away some runs, and the game ended with the Blue Jays winning 4-3.
If anything, going to a real Red Sox game at Fenway Park, which is just an incredible place to see, made me a bigger fan. We had a nice view from the grandstand, looking out across third plate. I was able to see David Ortiz play. Xander Bogaerts hit a homerun. My favorite player, Dustin Pedroia, hit a single. David Price pitched a great game. Koji Uehara, the hero closer of the 2013 World Series, pitched one inning. Craig Kimbrel was throwing fire in the 9th. We all had a great time at the game. It was a memory I'll carry with me, and it was wonderful to share it with my family on my son's birthday.
I can't wait to go see another game at Fenway, but I'll be watching from my couch tonight as the Sox begin a series with the Tampa Bay Rays.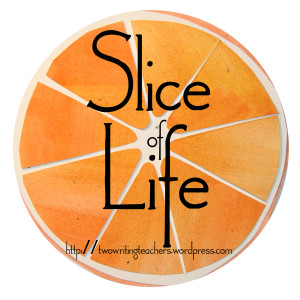 Slice of Life is a weekly writing challenge hosted by Two Writing Teachers. Visit their blog for more information about the challenge and for advice and ideas about how to participate.