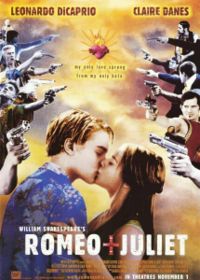 In my experience, people have a strong reaction to Baz Luhrmann's 1996 production of Shakespeare's Romeo and Juliet: they either love it, or they hate it. A teacher friend of mine once told me, "I refuse to show my classes the Leo DiCaprio version of Romeo and Juliet because… because… because it's such a crock of shit." Yet another colleague called it "lush and visually stunning."
My students often refer to this version as the "new" one. It seems strange to refer to Baz Luhrmann's production as the "new" version, when it is now ten years old; however, I think it does retain some freshness. It doesn't appear dated, at least not yet, but I do feel that it's potential to become dated is greater than that of Franco Zeffirelli's 1968 production (which seems dated only in some of the hairstyles).
One of the chief complaints of many people who don't like the film is the modernization, which some believe borders on sacrilege. My department head mentioned she thinks it is weird to hear Shakespearean dialogue amidst the gunplay. Others dislike the so-called MTV quality of the film. Noted film critic Roger Ebert declared, "I have never seen anything remotely approaching the mess that the new punk version of Romeo & Juliet makes of Shakespeare's tragedy" (via Rotten Tomatoes).
I have often hedged before telling someone I liked it, simply because those who react negatively to the film do so in such a, well, violent manner. No, no one's ever hit me — but their crazy-eyed, passionate hatred has scared me! If I may be so bold, I have noticed that many people who dislike the film have such a strong, visceral reaction that they are unable to see that the film does have some merits. For example, given that Zeffirelli's film is so true to the spirit of Shakespeare's play, it might surprise you to learn that Luhrmann's version actually contains more of the text of the play. Shocking! In fact, Zeffirelli's version cuts one of the most famous lines: "But soft! What light through yonder window breaks? / It is the east, and Juliet is the sun" (Act II, Scene 2). If my memory serves, the most important line that Luhrmann cuts is Juliet's famous "O happy dagger / This is thy sheath. There rust and let me die" (Act V, Scene 3).
I have to admit that I do not care for Luhrmann's Balcony Scene. I don't think there was any reason to put Romeo and Juliet in a pool, aside from amping up the sexuality. I wish also that the characters Sampson and Gregory had not been made Montagues rather than Capulets, and that Abra (Abraham or Abram) had not been made a Capulet rather than a Montague. My objection to this stems only from the fact that when I use the movie in class, this change can cause confusion.
Swapping guns for swords does not trouble me; I feel that Luhrmann handled that in a clever way, and in fact, the exchange really emphasized the violence in Romeo and Juliet's world. Think about it: in the 1400's it was not uncommon for the average male to carry a weapon or two. I think it makes sense that the omnipresence of weapons makes it more likely that weapons will be used. However, this was not something that particularly struck me as frightening until I saw all those guns. Why be more afraid of a gun than a sword? I'm not sure, but I know I felt as though life in Verona Beach, Florida was more precarious than life in Verona, Italy, even if this was not remotely a reality.
The massive throw-down at the gas station? It hooked me. A black Mercutio dressed in drag for the Capulets' feast? I loved it. Miriam Margolyes' Hispanic nurse screaming "Hoo-lee-etta!" Classic. The twist at the end, when Juliet awakes just before Romeo takes the poison? Clever and heart-wrenching. I should add that I have never had a class that didn't laugh at Claire Daines' echoing cry after Romeo dies. It does sound a bit, well, fake. What masterful use of the "Liebestod" from Wagner's Tristan and Isolde after she dies!
In the balance, I like both films equally, and I use both in my class, though I only show the entirety of Zeffirelli's version. After all, we only have so much time in class and a lot o curriculum to teach. However, I invite interested parties to come to my room at lunch to view Luhrmann's version. Two years ago, I had a couple of girls who came to lunch and watched it over and over and over. I have not noticed that the students favor one version of the film over the other. For the most part, my students have enjoyed both. If you are interested, you can download and view a Power Point presentation in which I utilize images from Luhrmann's film (designed to introduce Shakespeare's play to students).
[tags]Baz Luhrmann, William Shakespeare, Romeo and Juliet[/tags]
If you appreciated a resource or want to support my work,
please consider leaving a tip. Pay what you like!