During a discussion with students today over Robin Bates's wonderful blog Better Living Through Beowulf, and its potential for ideas for their papers, a student asked me, "Don't you have a blog?" I said, "Yes, I do," and the students were curious. I told them where they could find it.
In the early days of the edublogosphere, educators often blogged under pseudonyms or were discouraged from blogging at all. Many feared retribution over what they might post, and at that stage, blogging was considered a bit edgy. I have been blogging here for ten years now (eleven in June), and I can't think of anything I would write here that I would be nervous about administrators, work colleagues, students, or parents reading. In fact, I invite it. I want the people I work with, the students I teach, and their parents to know I think a great deal about teaching, and blogging is a big part of that reflective practice. Blogging about my teaching has made such an immeasurable difference in my teaching career that it's hard to say what kind of teacher I would be if I hadn't started blogging. It was through encouragement on this blog that I tried just about every initiative in teaching, and each of the initiatives that has worked has made my practice that much better. In fact, I am not completely sure that I would still be teaching if not for the support and reflection this blog has offered me. When I began teaching at a school where that support and reflection was built into the expectations and culture (in comparison with other places I've worked), I admit I slacked off on posting, but I have yet to find any ongoing PD that has been as beneficial to me as blogging about what I am doing in the classroom.
Even though I have improved my teaching practice over time, and this blog reflects that improvement (I find in reading older posts that my positions have shifted quite a lot in some areas), I am proud that my colleagues read my blog (and sometimes leave comments) and if my students were to find it interesting that I reflect on ways I can be a better teacher out here, then they are welcome to visit. (And hello!)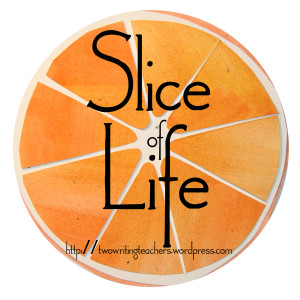 Slice of Life is a weekly writing challenge hosted by Two Writing Teachers. Visit their blog for more information about the challenge and for advice and ideas about how to participate.